Stop the Wrong Program from Opening a File in Vista
Stop the Wrong Program from Opening a File in Vista
Windows Vista uses file associations to normally open the correct file. When Vista uses the wrong program to load a file, follow these steps to correct the problem: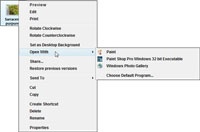 1

Right-click your problematic file and select Open With from the pop-up menu.

As shown in this figure, Windows names a few programs you've used to open that file in the past.

Don't see the Open With option on the menu? Then choose Open. Vista jumps straight to the Open With window, shown in the next step.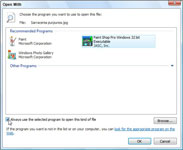 2

Click Choose Default Program and select the program you want to open the file.

The Open With window lists many more programs. If you spot your favorite program, you could double-click it to open your file immediately. But that wouldn't prevent the same problem from recurring. The next step tackles that challenge.

If Windows doesn't list your favorite program anywhere on its list, you have to look for it. Choose Default Programs, click the Browse button, and navigate to the folder containing the program you want. (Hint: Hover your mouse pointer over the folders to see some of the files and programs inside.)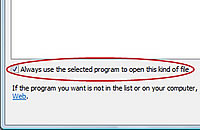 3

Select the Always Use the Selected Program to Open This Kind of File check box and click OK.

That box makes Windows return top-billing status to your selected program. For example, choosing Paint Shop Pro (and checking the Always box) tells Windows to summon Paint Shop Pro every time you double-click that type of file.