Set Up Passwords in Windows Vista
Set Up Passwords in Windows Vista
Set up a password in Windows Vista if you want to make sure that only you can access your user account (or computer). Use the Create Your Password dialog box to set up your password.
1

Open the Start menu, choose Control Panel, and select User Accounts and Family Safety.

The User Accounts screen opens.
2

Choose Change Your Password.

People who haven't created a password should instead choose Create a Password for Your Account.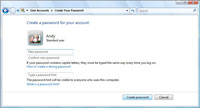 3

Make up an easy-to-remember password and type it into the New Password box, and then retype the same characters into the Confirm New Password box below it.

Changing an existing password works slightly differently: The screen shows a Current Password box where you must first type your existing password.
4

In the Type a Password Hint box, type a clue that helps you remember your forgotten password.

Make sure that the clue works only for you. Don't choose My hair color, for example. If you're at work, choose My cat's favorite food or The director of my favorite movie. If you're at home, choose something only you know — and not the kids. And don't be afraid to change your password every once in a while, too.
5

When the User Accounts screen returns, choose Create a Password Reset Disk from along the screen's left side.

Vista walks you through the process of creating a Password Reset Disk from a floppy, a memory card, or a USB thumb drive.