Set Up Internet Explorer for the First Time
Set Up Internet Explorer for the First Time
To allow Vista to communicate with Internet Explorer, you need to perform an initial setup of Internet Explorer. Vista offers a wizard to guide you smoothly through the process of setting up Internet Explorer. With the help of the wizard, follow these steps:
1

Click the Start button and choose Connect To.

The Connect To button fetches a list of every way your PC currently knows how to connect with the Internet.
2

Choose Set Up a Connection or Network.

Scour the window's fine print for this option.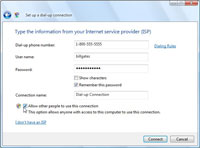 3

Choose Set Up a Dial-Up Connection.

Because you're not choosing wireless or broadband, dialup is your only Internet connection option. To speed things along, Vista passes you a questionnaire, as seen here, ready for you to enter your dialup ISP's information.
4

Enter your dialup ISP's information.

Here's where you enter your three all-important pieces of information: your ISP's dialup number, your username, and your password.
5

Click the Connect button.

If you're lucky, your PC connects to the Internet (but doesn't offer any clues that you've connected). Load Internet Explorer from the Start menu, and see whether it lets you visit Web sites.

If Internet Explorer still can't visit the Internet, move to Step 6.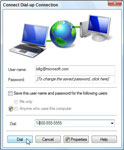 7

Click the Dial-Up Internet connection and click Connect.

Vista tosses you one more screen. This gives you a chance to type in your password, for example, if you didn't check Remember This Password in Step 4. It's also where you can tweak your connection settings, handy for temporarily changing the phone number, for example.
8

Click Dial to dial the Internet and connect to your ISP.

You're done. Windows Vista automatically leaps into action, uses your settings to call your Internet provider, and lets you know when it's connected.