Set the Number of CPUs to Speed up a Slow PC
Set the Number of CPUs to Speed up a Slow PC
Your PC may have a multi-core processor or multiple processors. Confirm that Windows is taking advantage of the extra processing power and, if not, fix it. This utility is available only in Windows 7 and Windows Vista. Sadly, this trick isn't available for Windows XP.
Follow these steps to set the number of processors that Windows uses in your PC:
1

Open the Run dialog box.

Press Win+R or click Run in the Start Menu.
2

Type msconfig and press Enter.

In Windows Vista, you will need to click the Continue button or type the administrator's password.

The System Configuration window opens.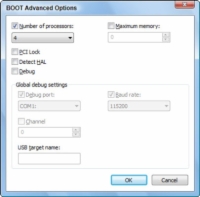 3

Click the Boot tab and choose the Advanced Options button.

The BOOT Advanced Options dialog box appears.
4

Place a check mark by Number of Processors and choose the highest number from the menu button.

The highest number is coincidentally the number of processor cores inside your PC.
5

Click OK.

The BOOT Advanced Options dialog box closes.
6

Click OK in the System Configuration window.

The System Configuration window closes.
7

Click Restart Now.

The changes don't take place until you restart the computer.

You can choose Exit without Restart, in which case the changes take place the next time you restart the PC.

The performance boost in your PC from setting the proper number of processors may not be noticeable, at least not dramatically. But at least by following these steps, you ensure that Windows is using the PC's hardware better than it did before.

See Video 241 to observe these steps in action.