Rip Tunes from a CD
Ripping music from a CD you own is the most common way to get the music into Windows Media Player. Depending on your particular PC, there are several ways to rip your music. You can simply insert a music CD into your CD-ROM drive, and Windows Media Player automatically starts and begins copying music from the CD.
Or, you see the AutoPlay dialog box, in which case you choose the option Rip Music from CD Using Windows Media Player.
There is yet a third way to rip tunes from a CD:
1

Start Windows Media Player.

Media Player launches into action.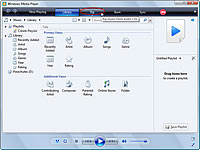 2

Choose Rip from the toolbar.

In a few moments, you see a list of tracks on the CD. If your PC is connected to the Internet, you might see information about the disc and the tracks appear as if by magic! Then Windows Media Player copies the music from the CD to the library.

The speed at which music is ripped from the CD depends on the speed of the CD/DVD drive.
3

Eject the disc after the songs have been copied: Choose Play→Eject from the menu or press Ctrl+J.

Put the disc away.