Remove Red Eye from Photos with Windows Vista
Remove Red Eye from Photos with Windows Vista
Windows Vista allows you to remove red eye from photos you've taken. Red eye is caused when the camera catches the blood-red retina in the back of the eye.
Vista's Fix Red Eye tool replaces the red with the more natural black, fixing a problem that's plagued party photographers around the world.
1

Open the Windows Photo Gallery, click your red-eye photo, and click the Fix button.

The Windows Photo Gallery lives in the Start menu's All Programs area.

Zoom in on the red eye area by clicking the magnifying glass icon on the Navigation bar along the window's bottom and sliding the bar upward. Then drag the photo with your mouse pointer until the red eye comes into view.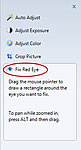 2

Click Fix Red Eye, drag a rectangle around the red part of the pupil.

Click just above the red portion of the pupil, hold down your mouse button, and point down and to the side to surround the red portion with a rectangle.
3

Release the mouse button

Like magic, releasing the mouse button turns the red into black.