Modify Windows Vista for the Physically Challenged
Modify Windows Vista for the Physically Challenged
You can modify Windows Vista to accommodate someone with a disability. To modify Vista, use the Ease of Access area in the Control Panel. Follow these steps to modify Vista's settings: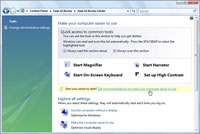 1

Choose Control Panel from the Start menu, choose Ease of Access, and choose Ease of Access Center.

The Change Ease of Access Settings window appears.
2

Choose Get Recommendations to Make Your Computer Easier to Use.

Look for the task called Get Recommendations to Make Your Computer Easier to Use (shown with the mouse pointing to it in the previous figure).

If you're not happy with Vista's changes, move to Step 3.
3

Make your changes manually.

The Ease of Access Center window offers these toggle switches to make the keyboard, sound, display, and mouse easier to control: Start Magnifier, Start Narrator, Start On-Screen Keyboard, and Set Up High Contrast.

Choose any of these options to turn on the feature immediately. Close the feature's window if the feature makes matters worse.

If you're still not happy, proceed to Step 4.
4

Choose a specific setting in the Explore All Available Settings area.

Here's where Vista gets down to the nitty gritty, letting you optimize Vista specifically for handling blindness or impaired vision, using an alternative input device rather than a mouse or keyboard, adjusting the keyboard and mouse sensitivity to compensate for limited movements, or turning on visual alerts instead of Vista's sound notifications. You can also make it easier to focus on reading and typing tasks.

Some centers that assist physically challenged people may offer software or assistance for helping you make these changes.