Import Your Video, Pictures, and Music
Import Your Video, Pictures, and Music
You can import video, pictures, and music into your PC. To import video, pictures, and music, you must copy the footage onto your computer through a cable. Most digital camcorders connect to a computer's FireWire (IEEE 1394) or USB 2.0 port.
To copy digital video onto your computer, follow these steps: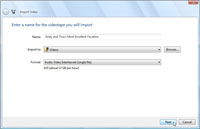 1

Open Movie Maker, connect your digital camcorder to your computer, and (if asked) click Import Video.

If this is your first time plugging in the digital camcorder, Windows Vista will recognize it and offer to import its video. To catch Vista's attention, you may need to switch your camcorder to the setting where it plays back — not records — video.

But if you've plugged in your camcorder before, Vista immediately displays the previous figure. (If you don't see this figure, open Movie Maker from the Start menu's All Programs area, click File, and choose Import from Digital Video Camera.)
2

Enter a name for your video, choose the video format, and click Next.

Choose one of the three ways Vista offers to import the video into your Videos folder, shown in the previous figure: Audio Video Interleaved (single file), Windows Media Video (single file), or Windows Media Video (one file per scene).
3

Choose whether to import the entire videotape or just portions, and click Next; click OK when it's finished importing your tape.

Vista offers two ways to import the video: Import the Entire Videotape to My Computer and Only Parts of the Videotape to My Computer.
4

Open Movie Maker, if it's not already open.

To summon Movie Maker, choose All Programs from the Start menu and select Windows Movie Maker.
5

Gather the videos, pictures, music, and sounds you want to include in your video.

Movie Maker's Import task, the first listed on the Tasks pane along the program's left edge, lets you gather all the material you want in your video. The Import task lets you gather these items: From Digital Video Camcorder, Videos, Pictures, and Audio or Music.