How to Set Up or Change a User Account
How to Set Up or Change a User Account
User accounts are set up or changed for various reasons. Your administrator is responsible for setting up or changing user accounts.
Follow these steps to add another user account to your PC or change an existing account: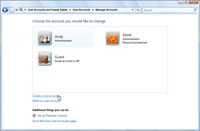 1

Click the Start menu, choose Control Panel, and choose Add or Remove User Accounts from the User Accounts and Family Safety area.

The Manage Accounts window pops up.
2

Create a new account, if desired.

If you click Create a New Account, shown in the previous figure, Windows lets you choose between creating a Standard account or Administrator account. Choose Standard User unless you have an important reason to create another Administrator account. Type a name for the new account and click Create Account to finish — you're finished.

To tweak the settings of an existing account, move to Step 3.
3

Click the account you want to change.

Click either the account's name or photo. Vista displays a page with that user account's photo and lets you tweak the account's settings. You can change the account name; create, change, or remove a password; set up parental controls, delete the account; or perform other tasks.
4

When you're finished, close the window by clicking the red X in its upper-right corner.

Any changes made to a user's account take place immediately.