How to Set Up a Sound Card for Windows Vista
How to Set Up a Sound Card for Windows Vista
In order for that fancy new sound card to let you hear all the special effects in your favorite game or movie, you need to properly set it up for Windows Vista. Setting up a sound card involves installing the proper drivers and ensuring that the correct settings are used in the sound card's properties.
1

Choose Start→Control Panel→Hardware and Sound and then click the Device Manager link.

The device manager lists all the hardware installed on your computer and lets you know whether there are any errors with the hardware.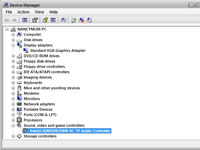 2

Click the plus sign icon to the left of Sound, Video, and Game Controllers.

Clicking the plus sign opens the list of all the available sound, video, and gaming hardware.
3

Right-click the sound card listed there and choose Properties.

The sound card's Properties dialog box will open to the General tab.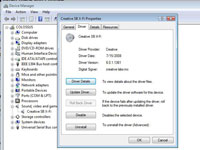 4

Click the Driver tab and ensure that the sound card is enabled.

If the fourth button down says Disable (meaning the device is currently enabled), you're in good shape. If it says Enable, click it.

Read the users' manual before changing the sound card's properties. Some sound cards are built into the motherboard, but others require that you take some steps to disable the old card before installing the new.
5

Click the Update Driver button.

If you have a disc with the sound card's driver, you can chose to have the Update Driver Software wizard browse your computer for the new driver. Alternatively, you can have the wizard search the Web for updates.
6

When you're done, click OK.

If you're having trouble getting sound, remember the basics: You have to have speakers connected to your computer, and the volume setting on your computer can't be muted. If you neglect to properly set either of these two vital requirements, don't be ashamed — just about everyone has done it!