How to Set the Default Printer in Windows Vista
How to Set the Default Printer in Windows Vista
You need to name a default printer if your PC has access to more than one printer. The default printer is the one that Windows uses, for example, when you click a Print toolbar button. To set a printer as the default printer, follow these steps: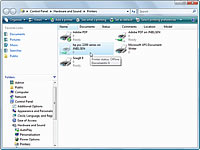 2

Select the printer you want as your default.

Most likely, you'll choose the printer you plan to use most often.