How to Set Program Defaults in Windows Vista
How to Set Program Defaults in Windows Vista
When you want to use a specific program in Windows Vista to perform a particular function (for example, say that you want to use Firefox for browsing the Web), you just need to set that program as the default for that function. You can also use program defaults in Windows Vista to make a particular file type open in a specific program.
1

Choose Start.

Then navigate to Control Panel→Programs.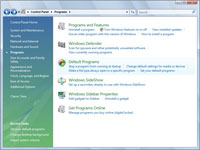 2

Click the Set Your Default Programs link.

You can find the Set Your Default Programs link in the Default Programs section.
3

Click Continue.

Clicking Continue allow changes to be made.
4

Select an item in the list of Programs.

You select the item by clicking once on it.
6

Click OK.

Clicking OK saves your settings.