How to Send an E-Mail Attachment in Windows Mail
How to Send an E-Mail Attachment in Windows Mail
Windows Mail lets you send an attachment along with your e-mail messages. You can attach almost any kind of file to an e-mail message, from a copy of your resumé to a business card (in the form of a vCard) to a photo demonstrating your awesomeness. The ability to send attachments with e-mail messages is what has made snail mail such as thing of the past.
1

Open Windows Mail and create a new e-mail message, address it, and enter a subject.

Prepare the e-mail just as you would if you were sending a regular message.
2

Click the Attach File to Message button.

It's the paperclip button.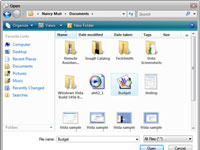 3

In the Open dialog box that appears, select the file you want to attach and then click Open.

Browse through the folders in the Open dialog box the same way you would browse through Windows Explorer.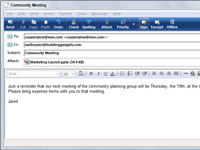 4

With the name of the attached file now in the Attach text box, type your e-mail message as usual.

This isn't required, of course; after all, a picture is worth a thousand words.

Keep in mind that most e-mail systems limit the size of file that can be sent or received. If your message isn't going through, you might need to compress the file or break it up into multiple messages.
5

Click the Send button to send.

Make sure you didn't attach anything too embarrassing; you never know where an embarrassing photo will end up when you send it into the electronic ether.