How to Send a Document as a Fax in Windows XP
How to Send a Document as a Fax in Windows XP
Sending a document as a fax is a speedy and paperless alternative to traditional faxing — printing out your document and faxing it with a fax machine. Faxing a document, complete with a cover page, is a simple process in Windows XP.
1

Choose File→Print.

Make sure the document is open in an application, such as Word or Excel.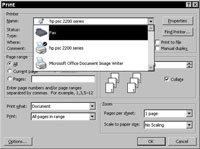 2

Select Fax.

Click the arrow on the Printer Name drop-down list to display the list containing the option, Fax. If you can't find the option, go to the Control Panel and click the Add or Remove Programs link. Click the Add/Remove Windows Components button and select the Fax Services option in the Components list. Follow the instructions to install it.
3

Click Next.

You can find the Next button in the Welcome to Send Fax Wizard window that appears.
4

Enter the recipient's information.

Enter the information in the Send Fax Wizard window and click Next.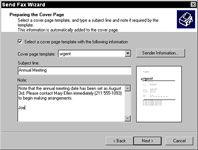 5

Fill out the Preparing the Cover Page window and click Next.

In the Preparing the Cover Page window, select a style from the Cover Page Template drop-down list, fill in the Subject Line text box, and type your message in the Note text box.
6

Fill out the Schedule window and click Next.

In the Schedule window, select a radio button to specify when to send the fax. Your options are: Now, When Discount Rates Apply, or a Specific Time Within the Next 24 Hours. Also in the Schedule window, set a Priority, if you want to.
7

Click Preview Fax.

You can find the Preview Fax button in the Completing the Send Fax Wizard window to see what the fax will look like.
8

Click the Close button.

Clicking Close only closes the preview — clicking Close doesn't send the fax.
9

Click Finish.

Click Finish to send the fax. A Fax Monitor window appears, showing you the progress of the fax.