How to Schedule Maintenance Tasks in Windows Vista
How to Schedule Maintenance Tasks in Windows Vista
It should come as no great surprise that you need to schedule maintenance tasks in Windows Vista to keep your computer running smoothly. With Windows Vista, you can schedule such preventive maintenance tasks as defragging your hard drive and checking for software updates.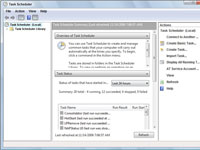 1

Choose Start→Control Panel→System and Maintenance and then click Schedule Tasks in the Administrative Tools.

The Task Scheduler dialog box will open. In the Task Status area, you'll see a list of any already-scheduled tasks.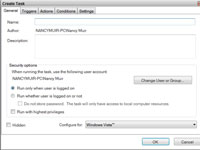 2

In the Task Scheduler dialog box, choose Action→Create Task.

The Create Task dialog box will open, allowing you to customize exactly what task you want to schedule and how and when you want it to run.
3

Enter a task name and description in the appropriate text boxes.

The name and description are there to help you remember what each task does. They don't have to make sense to other people, just to you.
4

Choose whether someone should be logged on before the task is run.

You can choose to run the task only when you are logged on or regardless of whether you're logged in or not.
6

In the Begin the Task drop-down list, choose when you want the task to run. Select the options you want in the Settings area. Click OK.

The settings change depending on what you choose in the drop-down box. You can schedule a task to run at a set time every day, week, or month, or whenever something specific happens, like opening a program, logging off, or connecting to the Internet.
8

Choose the action that will occur from the Action drop-down list and fill in the necessary information. Click OK.

The available actions are starting a program, sending an e-mail, or displaying a message. Depending on what you choose here, different action dialog boxes appear. For example, if you want to send an e-mail, you get an e-mail form to fill in.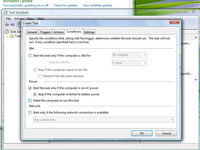 9

Click the Conditions tab and then specify what conditions need to occur before the action is triggered. Click Next.

You can designate a start time and start date by clicking the arrows in each field. You can also determine whether the computer is running on AC power and whether it is connected to a network.