How to Request Remote Assistance for Windows Vista by IM
How to Request Remote Assistance for Windows Vista by IM
One of the easiest ways to request and receive Remote Assistance for Windows Vista is by instant messaging (IM). If you use one of Microsoft's instant messaging services (Windows Live Messenger, MSN Messenger, or Windows Messenger), Remote Assistance is pretty easy to access. Then you can sit back and let your computer guru do all the work.
Make sure you're using an Administrator account or that you know the ID and password of someone with an Administrator account on your computer. The following steps use Windows Live Messenger 8. If you're using Windows Live Messenger 2009, what you see will be a bit different, but the basic steps ought to be the same.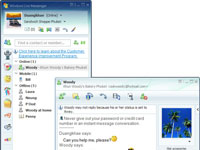 1

Log on to Windows Live Messenger and initiate a conversation with your guru — the person who will help you.

In this figure, Duangkhae starts an IM conversation in Windows Live Messenger and asks for help.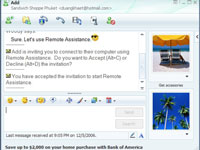 2

When you're ready to let your guru see your computer, click Actions→Request Remote Assistance.

The guru receives an invitation to connect to your computer. The guru clicks the Accept link or presses Alt+C. You, in turn, receive notification that the guru has accepted and you are asked to provide a password.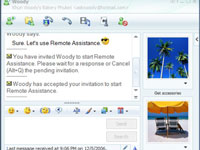 3

Enter a password and then enter it again to confirm; click OK.

The guru receives a prompt to enter the password.
4

At this point, you must communicate the password to the guru.

Do NOT send the password via Windows Live Mail. It will not be secure. Pick up the phone, for heaven's sake.
5

The guru types in the password and clicks OK.

You receive a confirmation message asking if you really want to do this.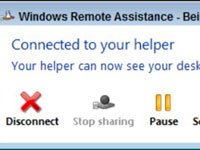 6

Click Yes.

The Remote Assistance session starts. You (the novice) see the Windows Remote Assistance control window and you continue to be in full control of the RA session. The guru sees your entire desktop, with his or her screen displaying a set of tools at the top.

In the normal course of events, the guru clicks the Request Control button in the upper-left corner of the Remote Assistance window. Windows asks you if you want to share control of your desktop.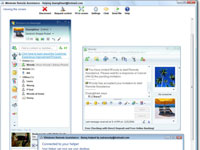 7

Select the Allow [your guru] to Respond to User Account Control Prompts box. Then click Yes.

It's best to let your guru take over completely unless you're extremely concerned about the guru's abilities (in which case, you should both be asking yourselves why you bother with RA in the first place). You, the novice — not the guru — receive a User Account Control prompt.
8

Click Continue when you see the User Account Control prompt.

If the novice simply waits long enough, Vista assumes that the novice wanted to click the Continue button and grants access to the guru. With all the hurdles cleared, your guru can take control of your computer.