How to Remove a Windows Patch in Windows Vista
How to Remove a Windows Patch in Windows Vista
So you got a bad patch from Microsoft? Hey, join the club. If you know you have a bad patch, you need to know how to remove the Windows Patch in Windows Vista. The first thing you need to know to remove a bad patch is the patch's Knowledge Base number, or KB number. Armed with the KB number, you can scan the list of patches that have been applied to your PC, with or without your knowledge or consent, and get rid of the offender rather easily.
Usually, you find out about bad patches (or the bad side effects of patches) through the news or by searching for specific problems you may encounter. Google can help you uncover all sorts of problems. A great place to find information about bad patches is at AskWoody — a Web site that provides updates almost daily. The SANS Internet Storm Center also keeps on top of the latest problems.
If you have Automatic Update turned off (more precisely, turned to "Notify") and you're cautious about applying Vista patches only when you're confident that they'll do more good than harm, you shouldn't be forced to remove a Windows update very frequently. On the other hand, if you let Microsoft patch your machine automatically, you may be forced to uninstall a patch much more often than you would like.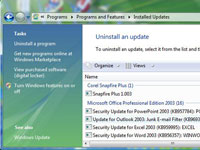 2

If you want to delete a bad update, click View Installed Updates.

Vista shows you the Uninstall an Update dialog box. You'll likely see a large number of files called "Security Update for Microsoft Windows" followed by a KB number in parentheses, as well as a few other "regular" updates and hotfixes. Look through the KB numbers listed and find the naughty patch.
3

Click the patch that's causing you heartburn.

An Uninstall button should appear. If it doesn't, you're outta luck — Microsoft won't allow you to uninstall the patch.
4

Click Uninstall.

You may have to reboot to make your change "take."