How to Print Documents in Windows XP
How to Print Documents in Windows XP
Before you print a document in Windows XP, you can choose what pages to print, how many copies to print, and depending on the application, you may be able to collate, choose what type of document to print, as well as scale your printout so that it fits onto fewer pages. Although this sounds like a lot to think about, Windows XP makes printing documents simple.
1

Choose File→Print.

Be sure that the printer you want to print to is displayed in the Printer area. If it's not, select it from the Name drop-down list.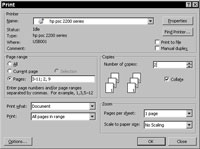 2

Select an option in the Print Range area.

Your options might vary depending on the application, but typically you'll find the following: Choose All if you want to print the entire document; choose Current Page to print the currently displayed page, slide, or spreadsheet; use the Pages area to specify a range of pages, such as 3-6 for pages 3 through 6, or 3, 7, 9 to print pages 3, 7, and 9. When using the Pages option, be sure to use a hyphen (-) with no spaces to designate a range of pages (such as, 5-10), and use a comma (,) followed by a space to designate nonconsecutive pages to print (such as, 5, 12, 14).
3

Select the number of copies to print.

In the Copies area, click the spinner arrows for the number of copies you want to print. You can also click the cursor in the Copies area, delete the existing number, and type in the number of copies that you want to print.
4

Check out your other options.

Depending on the application, you might see a Print What drop-down list, which allows you to select the type of document to print. (For example, in Word you can print the document, document styles, or document properties. In PowerPoint, you might print handouts, an outline, or slides.) You might also see a Collate check box so if you're printing multiple copies, you can print in organized sets. You might also see a sizing feature, which can vary slightly from application to application, but allows you to scale the printout to fit more on a page.
5

Click OK.

When you finish making selections, clicking OK prints the document according to the selections you made.