How to Perform Modem Diagnostics in Windows Vista
How to Perform Modem Diagnostics in Windows Vista
It seems like so much of our computing time these days is conducted online. Consequently, knowing how to run a diagnostic check on your modem in Windows Vista can save you from valuable down time. The modem diagnostic process will help you pinpoint where connection problems are coming from so that you can move to quickly resolve the issue.
1

Choose Start→Control Panel→Hardware and Sound and then click Device Manager.

The Device Manager is a listing of all of the hardware that is installed on your computer.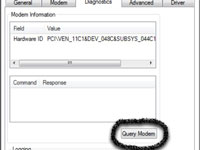 2

Click the plus sign next to Modems to display installed modems. Right-click a modem and choose Properties from the shortcut menu.

The Modem Properties dialog box appears.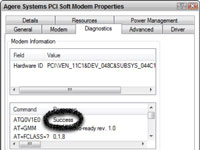 3

On the Diagnostics tab of the resulting Modem Properties dialog box, click Query Modem.

What appears at this point differs depending on whether the modem is experiencing a problem. If the modem is working properly, the response reads Success. You can select the Append to Log check box to add this information to your log, and then share the log with a technical support person to get help with your modem problem.
4

Click OK and then click the Close button on the Device Manager window.

If the modem isn't working properly, check the Resource tab of the Modem Properties dialog box, which lists any other devices on your system that might be in conflict with your modem and therefore cause problems. Disable those devices and try your modem again.