How to Organize the Start Menu in Windows XP
How to Organize the Start Menu in Windows XP
You can organize your Start Menu in Windows XP to include your favorite programs. You can also organize the Start Menu alphabetically so that finding the programs you'd like to open in Windows XP is even easier. So, just follow these steps to customize, organize, and alphabetize your Start Menu.
1

Press the Windows key to display the Start menu.

Right-click anywhere on an empty part of the Start menu and choose Properties.
2

Click the Customize button.

The Customize button is found in the Taskbar and Start Menu Properties dialog box, and clicking that button displays the Customize Start Menu dialog box.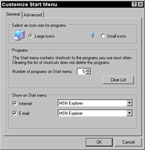 3

Click the up or down arrows on the Number of Programs on Start Menu text box.

Clicking these arrows displays more or fewer of your frequently used programs. Use the drop-down lists of alternate Internet and E-Mail programs to select different applications to appear on the Start menu.
4

Click the Advanced tab to display it.

Determine what items you want to display on the Start menu and select or deselect items in the Start Menu Items list.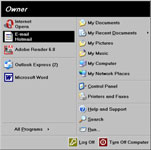 5

After you finish making selections, click OK to save the new settings.

Your Start menu now reflects your changes, showing items for accessing and running programs and feature.
6

Right-click the list of programs and choose Sort By Name to alphabetize the list.

Folders get reordered to appear first, and then individual programs.