How to Install Software in Windows XP
How to Install Software in Windows XP
If you want to install software in Windows XP, just pop in the software CD. If the installation window appears — as it often does — click Next to run the software and follow the installation prompts. If you try to install software in Windows XP and nothing happens after you insert a software CD, follow these steps to open the Add or Remove Programs window.
1

Choose Start→Control Panel.

The Start button is located at the bottom-left corner of your screen, and Control Panel will show up on the Start menu once you click the Start button.
2

Click the Add or Remove Programs icon.

If you hover your cursor over the icon, a pop-up will read: "Install or remove programs and Windows components." This confirms that you've found the right icon.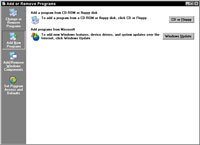 3

Click the Add New Programs button and then click the CD or Floppy button.

The button is located on the left.
5

Follow the prompts for that software installation.

Don't worry about doing any customizing while installing software. Standard installation is normally recommended and sufficient.