How to Install a PCI Network Adapter in Windows Vista
How to Install a PCI Network Adapter in Windows Vista
Installing a PCI network adapter in your Windows Vista computer will let you access the Internet at home, at work, or at the nearest available Wi-Fi hotspot. The PCI adapter will create a built-in wireless access point for your computer that will enable it to connect with wireless routers.
Be careful about poking metal implements (such as screwdrivers) into the insides of the CPU because you could set off an electrical unpleasantry.
1

After purchasing the PCI adapter, turn off your computer and disconnect all power and other cables from it.

Turning off the computer is very important. You have to open your CPU for this procedure, and you're in danger of severe electrical shock if you leave your computer on while you play around inside it.
2

Open the PC chassis.

Refer to your computer manual to determine how to open the CPU, how your computer is configured, and where the PCI adapter should be inserted. Your particular hardware will have its own idiosyncrasies, and new technologies come along that change the way newer computers are configured, so be sure to read your computer user's manual before dealing with any hardware upgrade.
3

Locate an empty slot for the PCI adapter and, if necessary, remove the protective cover from it.

Again, check your manual for the exact location in your system.
4

Remove the adapter from its packaging and plug it in.

Handling it by its edges, line it up with the slot and insert it firmly but gently.

Leave the parts that you're going to insert in your computer in their packaging until you need them. If they sit around on your desktop or elsewhere, they could pick up static electricity, which could be harmful to your computer.
5

Replace the computer cover and reinsert the screws.

Make sure you don't leave any wires disconnected or loose screws inside the PC chassis.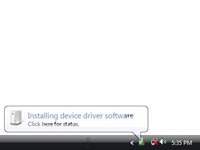 6

Plug in the computer and turn it on.

Your computer should sense the new adapter when it starts up and display the Installing Device Driver pop-up above your taskbar.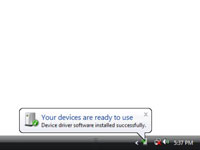 7

Windows Vista should automatically set up the hardware.

When the process is complete, a pop-up appears stating that your hardware driver is installed and ready to use.
8

If Windows Vista can't find a driver for the adapter, you might have to provide it.

Don't worry; it will be on the CD that came with the PCI adapter. Just use the Browse button to navigate where you downloaded the driver, and then proceed with the wizard.