How to Generate an E-Mail Shortcut in Windows Vista
How to Generate an E-Mail Shortcut in Windows Vista
Say you have to e-mail a status report to the same people every day. Instead of creating a new e-mail from scratch each time, you can generate an e-mail shortcut in Windows Vista that, when double-clicked, starts your e-mail program (Outlook, Windows Mail, or some other client) and creates a new message ready for you to fill out and send.
1

Right-click any empty spot on the desktop and choose New→Shortcut.

Windows responds with the Create Shortcut Wizard.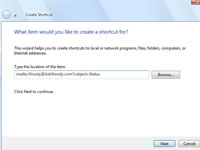 2

In the Type the Location of the Item box, you need to type mailto

:

then add the e-mail recipient's address.

It is very important to include the mailto: command. For example, mailto:Woody@AskWoody.com
3

Enter the subject of the e-mail by typing ?subject= then adding a one-word subject.

To get around a bug in the Create Shortcut Wizard, you need to use only one word for the subject.
5

Click Finish.

The shortcut icon appears on your desktop.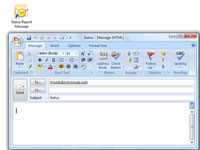 6

Double-click the new icon.

Your e-mail editor kicks in, creating a new e-mail message in your default e-mail program to the person whose information you entered in Step 2. In this case, Outlook 2007 is installed and Word 2007 appears as the default e-mail editor.
7

"X" out of the new e-mail message.

No, you don't want to keep the draft.