How to Find a Lost E-Mail Message
How to Find a Lost E-Mail Message
Eventually, you'll need to find a lost e-mail among the hundreds (thousands?) in your e-mailbox. Windows Vista offers three ways to find a lost e-mail message.
If you know which folder it's lurking in, click that folder's name. Then click in Windows Mail's Search box in the upper-right corner. Type the sender's name, or perhaps a few words from the e-mail, and press Enter.
Don't know the folder? Try the Start menu's Search box. The Start menu's Search box constantly indexes your e-mail — and the Start menu's Search box works like a mini-Google to find it.
But when the Search boxes let you down, try Windows Mail's built-in search. It provides a meticulous search through all your folders when you follow these steps: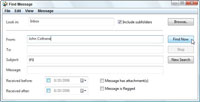 2

In the Find Message dialog box, search for messages that contain certain items.

Here are your options: Look In, From, To, Subject, Message, Received Before/After, Message Has Attachment(s), and Message Is Flagged.