How to Fight Phishing
Phishing is a scam that can fool innocent people into doing something they would never do otherwise (such as divulge passwords and credit card information). You can minimize phishing in Internet Explorer:
1

Click the Tools button on the toolbar.

You'll see a drop-down list.
2

Choose Phishing Filter to display that submenu.

The Phishing Filter pops into action.
3

Confirm that the second command reads Turn Off Automatic Website Checking.

If so, you're done; otherwise, continue.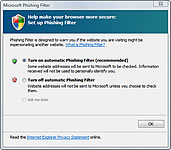 4

Choose Turn On Automatic Website Checking.

A special security dialog box, Microsoft Phishing Filter, appears.
5

Click OK.

The phishing filter is now activated.