How to Delete Temporary Internet Files in Windows Vista
How to Delete Temporary Internet Files in Windows Vista
Deleting temporary Internet files using Internet Explorer in Windows Vista is a great way to keep your computer from becoming cluttered and bogged down with unnecessary files. Windows Vista stores copies of frequently visited Web sites so that they can be opened quickly. Windows Vista stores these Web sites as temporary Internet files. Although it's nice to have your favorite Web pages open quickly, if you don't clean out these files periodically, your computer will maintain copies of all the pages you browsed while looking for Christmas gifts two years ago. Internet Explorer can wipe out all the old files.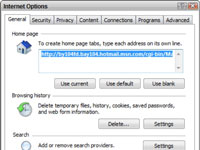 1

Open Internet Explorer and choose ToolsInternet Options.

The Internet Options dialog box opens, which you can use to control how Internet Explorer functions.
2

Click the General tab, and then click the Delete button in the Browsing History section.

The Delete Browsing History dialog box opens, giving you several options for clearing out Internet clutter.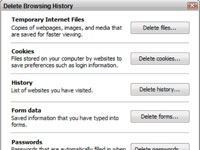 3

Click the Delete Files button in the Temporary Internet Files section.

A confirmation message asks whether you want to delete the files.

If you wish to further clean out your computer, you can choose to delete any of the other types of browsing history. However, none of the other types of data actually take up much hard drive space. They have more to do with keeping your browsing tracks private.
4

Click Yes, click Close, and then click OK to close the open dialog boxes.

Internet Explorer will now start a new browsing history with the next Web page you open.