How to Create the Media Library for Windows Media Player
How to Create the Media Library for Windows Media Player
Having a state-of-the-art media player on your computer is great and all, but you need to know how to create the media library for Windows Media Player in order to actually listen to anything. Whether you intentionally downloaded them or not, whether you want them or not, your PC already overflows with audio files: grunts and squawks and bleeps and moans, with a few worthwhile songs here and there. If anyone in your home has been ripping CDs, you may have a few more tunes sitting around.
WMP is set up to search your personal folders and your computer's Public folders for music and videos. If you have more than one user on your computer, and these users aren't knowledgeable enough (or sharing enough) to stick their music and video files in the Public folders, your copy of Windows Media Player doesn't know squat about them. The same holds true for music and videos that you've stored on a separate drive or on your network.
1

Start Windows Media Player.

If you can't find it immediately, choose Start→All Programs→Windows Media Player.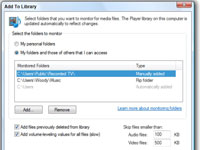 2

Click the little down arrow underneath the Library button and choose Add to Library. If you see an Advanced Options button, click it.

If you've run Windows Media Center at any point in the past, the C:UsersPublicRecorded TV folder appears as a manually added folder, at the top of the list. That's where it came from.
3

Select the My Folders and Those of Others That I Can Access option.

If you have an administrator account, checking this box forces WMP to monitor other users' folders.
4

Check the box marked Add Volume-Leveling Values for All Files (Slow).

You know how TV commercials blare out louder than the normal TV programs? This option tells Windows Media Player to scan each track as it's added to the Library and adjust the overall volume control for the track so that it isn't too soft or too loud.

The volume leveling option significantly slows the loading of each file in to the Library. But it also means that you won't have to go diving for the volume control when some boorish audio or video track wants to play at an astoundingly high level.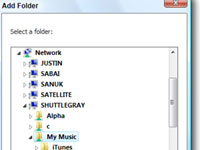 5

If you want to add a folder that isn't on the list, click the Add button.

WMP shows you the Add Folder dialog box.
6

Choose the folder you want to add to Windows Media Player's "watch list" and then click OK.

You'll return to the Add to Library dialog box.

The scanner does not look inside compressed folders or zip files.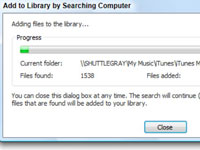 7

When you've added all the locations you want to add, click OK.

Windows Media Player scans the selected locations and apprises you of its progress with the Add to Library by Searching Computer message box.

It takes a while to scan all your drives — and even longer to scan network drives — but when you're done, you can get at all the music and videos on your computer through WMP itself, rather than have to search manually for songs or videos on your hard drive. If you told Windows Media Player to add volume-leveling values (Step 5) or to retrieve media info from the Internet, it can take hours to scan all your music. Days even.
8

When you get tired of looking at the message, click the Close button.

Windows Media Player's scan continues in the background, and it will begin again anytime you add or delete a file in the selected locations.