How to Create Appointments in the Windows Vista Calendar
How to Create Appointments in the Windows Vista Calendar
Creating appointments in Windows Calendar for Windows Vista allows you to keep track of your schedule and to remind yourself of what appointments are coming up. Being able to create, track, and remind yourself of appointments in Windows Calendar helps you manage that busy schedule of yours.
1

Choose Start.

Go to All Programs→Windows Calendar.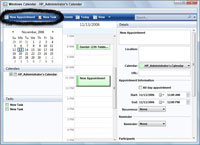 2

Click the New Task or the New Appointment button.

By clicking the New Task or New appointment button, you open a new, and empty, appointment that you can add to your Windows Calendar.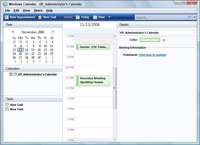 3

Enter info about the appointment.

In the Details pane, you can enter information about the task or appointment, including whether Windows Calendar should remind you about the item.
4

Click outside of the New Task/New Appointment pane.

If you click anywhere outside of the New Task/New Appointment pane, the item appears in your daily calendar.
5

Click the View button.

When you click the View button, you can cycle through the views, or click the down-arrow on the View button to choose a view, such as Month or Week.