How to Create a Text File in NotePad Using Windows XP
How to Create a Text File in NotePad Using Windows XP
Use NotePad for Windows XP to create text files, such as notes for yourself. While NotePad is simple to use, NotePad for Windows XP has only very basic features. So if you want to create a text file that others will see, use WordPad, but if you're typing something up for yourself, like quick notes to replace all of the yellow sticky notes around your computer screen, follow these simple steps to use NotePad.
1

Choose Start→All Programs→Accessories→NotePad.

The NotePad window appears with a blank document open.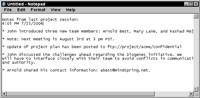 2

Enter text for your document.

When you reach the right margin, the text should wrap to the next line automatically. (If wrapping isn't automatic, choose Format→Word Wrap to make it so.) To place blank lines between text, press Enter. (Note: Use the Edit menu commands, Cut, Copy, and Paste, to edit what you write.)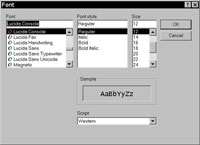 3

Click and drag over the text to select it, and then choose Format→Font.

In the resulting Font dialog box, use the Font, Font Style, and Size text lists to make formatting choices. The Sample area displays the new formatting as you make your choices.
4

Click OK.

Clicking OK after you adjust all your formatting settings will apply those settings to the selected text.