How to Create a System Restore Point for Windows Vista
How to Create a System Restore Point for Windows Vista
Whenever you're going to install a new piece of software (or even update an existing application), it's a good idea to create a system restore point for Windows Vista. With a current system restore point, you'll be able to go back and repair your system should the new installation cause more harm than good.
For example, say you've got a copy of Uncle Billy Joe Bob's Blaster Beta and you're about to install it. Since Billy Joe Bob isn't a major brand name in the computer world, you don't know whether its installer is one that properly notifies Windows that it's about to install a program, which gives Windows a chance to create a restore point automatically. Maybe the Blaster Beta won't do anything bad to your system. Maybe it will. Maybe it has a good installer. Maybe it doesn't.
When in doubt, run a restore point before you install new software or hardware. It's a quick, easy ounce of prevention.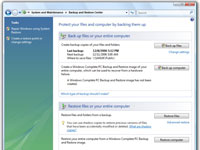 1

Choose Start→Control Panel, click the System and Maintenance icon, and click the Back Up Your Computer link.

You see the Backup and Restore Center.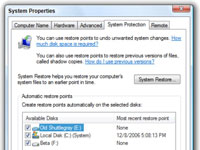 2

In the Tasks pane, click the Create a Restore Point or Change Settings link.

Click Continue through a User Account Control warning message, and Vista shows you the computer's System Properties dialog box, which is open to the System Protection tab.

You can also create a restore point from the Start menu. Click Start, right-click Computer, and choose Properties. In the Tasks pane, click System Properties.
4

Type a description that you can remember — no need to include the date or time — and click Create.

The wizard takes a while to gather all the pertinent data, but when it's done, you see a message that says the restore point was created successfully.
5

Click OK, then click X to exit the System Properties dialog box.

Vista saves old restore points until it runs out of room — which can take a year or two.