How to Create a New User Account in Windows XP
How to Create a New User Account in Windows XP
You can create a new user account in Windows XP for anyone: your spouse, your children, your babysitter, your in-laws . . . well, don't go too crazy. By creating new user accounts for the people who will be using your computer, you allow everyone to switch between users as well as customize their experience with Windows XP on just a single computer — all without having to shut down the computer for each new user. Each time you create a new user account, follow these simple steps.
1

Choose Start→Control Panel.

The Start button is located at the bottom-left corner of your screen.
2

Double-click the User Accounts link.

You'll know that you've found the correct link because if you hover your cursor over it, a pop-up will read: "Change user account setting and passwords for people who share this computer."
3

Click the Create a New Account link.

You can find the New Account link in the "Pick a task . . ." list.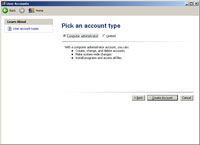 5

Select the type of account you want to create for Windows XP.

A Computer Administrator can do things like create and change accounts and install programs; a Limited user can't do those tasks.
6

Click the Create Account button.

This button is located at the bottom-right of the "Pick an account type" screen.
7

Close the Control Panel.

You can do this by clicking File→Close or by simply clicking the "X" at the top-right corner of the Control Panel screen.