How to Connect to Remote Assistance in Windows Vista
How to Connect to Remote Assistance in Windows Vista
Sometimes, the most efficient way to get your computer working again is to connect to Remote Assistance in Windows Vista. When you connect to Remote Assistance, you are allowing a tech support person (or a friend who is more technically adept than you) to control your computer remotely. They can access your computer from their workstation and make the corrections you need. Before you know it, you'll be back up and running.
1

Enable Remote Assistance by choosing Start→Control Panel→System and Maintenance→System→Remote Settings.

The system properties dialog box will open.

If you have User Account Control enabled to protect your system, Windows Vista will ask you to verify that you want to open the System Remote Settings. Just click Continue to access the remote settings.
2

On the Remote tab, select the Allow Remote Assistance Connections to this Computer check box, and then click OK.

This setting is required to enable others to breach the Windows Firewall and control your computer.
3

Open the Help and Support Center and click the Windows Remote Assistance link.

The link is in the Ask Someone area of the Help and Support Center.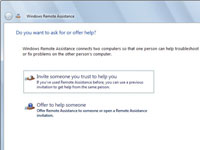 4

On the Windows Remote Assistance page, click the Invite Someone You Trust to Help You link.

On the page that appears, you can notify somebody that you want help.
5

Click Use E-mail to Send an Invitation.

You can use Windows Messenger or e-mail to invite somebody to help you.
6

Enter and retype a password and click Next.

Your default e-mail program opens with an invitation message prepared.
7

Fill in an e-mail address and, if you like, a personal message at the end of the automatically generated invitation. Click Send.

You might want to provide the password you assigned here.

It's up to you to let the recipient know the password — it isn't included in your e-mail unless you add it. Although using a password was optional in Windows XP, it's mandatory in Windows Vista, and the password you use must be at least six characters long.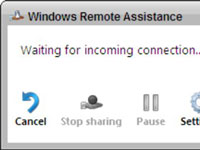 8

When an incoming connection is made, you can use the resulting Windows Remote Assistance window to control the session.

Use the tools here to adjust settings, chat, send a file, or pause, cancel, or stop sharing.
9

When you're finished, click the Close button to close the Windows Remote Assistance window.

Hopefully, you and your rescuer were able to figure out what was wrong and work out a solution.