How to Configure a USB Device with Windows Vista
How to Configure a USB Device with Windows Vista
USB devices (peripherals) include flash drives, printers, routers, scanners, and drafting pens. Most computer peripherals use USB (Universal Serial Bus) technology to connect to the computer. Configuring a USB device for Windows Vista is easy if you know how to set up the correct drivers for your USB device.
1

Choose Start→Control Panel→Hardware and Sound→Device Manager.

The Device Manager shows all the hardware associated with your computer as well as the health of that hardware.
2

Click the plus sign to the left of the Universal Serial Bus Controllers item.

This opens a list of all devices that either are plugged into a USB drive or have previously been set up on your computer.
3

Right-click an item and choose Enable to enable it.

Or click Disable to disable it.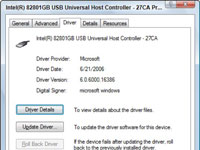 5

Click the buttons on the Driver sheet to manage the driver; you can view details about it, upgrade it to a newer version, or uninstall it.
6

Click OK.

This will save your updated USB device settings.