How to Configure a TCP/IP Connection in Windows Vista
How to Configure a TCP/IP Connection in Windows Vista
Whether your IP address is assigned when you log on to the Internet or you have a static IP address, as with a cable modem or DSL, it's useful to know how to configure the TCP/IP connection in Windows Vista. Understanding the configuration options allows you to tinker with the settings until you get things working just the way you like it.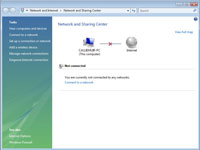 1

Choose Start→Network→click the Network and Sharing Center link.

The Network and Sharing Center provides links for a wide range of network features.
2

In the resulting Network and Sharing Center window, click the Manage Network Connections link.

The Manage Network Connections window shows a list of each type of Internet connection that has been configured on your computer broken down by type.
3

Right-click the connection you want to configure and then choose Properties.

The Properties dialog box contains options for letting you setting up the connection's protocols.
5

Select the Internet Protocol Version (TCP/IP) option and then click the Properties button.

Locate the TCP/IP protocol in the This Connection Uses the Following Items area. Be sure that the latest version of the TCP/IP is selected, even if earlier versions are also available and selected.