How to Compress Files in Windows Vista
How to Compress Files in Windows Vista
Creating a compressed file or folder in Windows Vista is a good way to deal with a collection of files. Compressing your files or folders can have a number of beneficial effects. First, you save disk space. Second, you can ensure that all of the files or folders in a given set stay together whenever the collection is moved or backed up. And finally, although many e-mail programs will not send a large collection of files, most will send the same collection of files if they are compressed.
1

Locate the files or folders that you want to compress using Windows Explorer.

It's easiest if all the files you want to compress are in a single folder.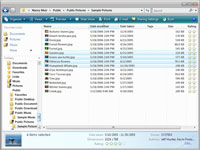 2

Click a file or folder, press and hold Shift to select a series of items listed consecutively in the folder, and click the final item.

Alternatively, to select nonconsecutive items, press and hold the Ctrl key while you click each item you want to include.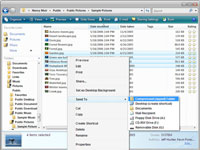 3

Right-click the selected items, chose Send ToCompressed (Zipped) Folder.

A new compressed folder appears. This folder icon is named after the last file or folder you selected in the series, but the name of the folder is left open for you to edit.
4

Type a new name for the compressed file and then click outside of the filename area.

If you decide you'd rather keep the name provided, just click anywhere outside the filename area to complete the process.