How to Collaborate with Windows Meeting Space on an Ad Hoc Network
How to Collaborate with Windows Meeting Space on an Ad Hoc Network
Meeting Space is Windows Vista's collaboration tool. It can be used to set up a meeting with others who happen to be nearby or over a larger LAN network. It's easy to hold an ad hoc meeting in Meeting Space for Windows Vista by connecting two computers with wireless cards that are not connected to the same network.
Windows Meeting Space isn't included in the Vista Home Basic version of the operating system. If you have the Home Premium version or any of the business versions, by all means start a meeting. But before you can use Meeting Space, you have to set up your computer for it by letting it pop through your firewall, and you have to set up a Display Name. The instructions for setting up Meeeting Space are available elsewhere on this Web site.
Meeting Space allows you to set up networks on the fly: If three random people running Vista in an airplane decide that they want to set up a Meeting Space meeting, no problem. The system can work without a hub or a router by skipping among wireless cards. Microsoft says it can handle up to ten computers, but that's pushing it.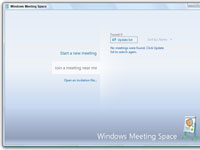 1

Choose Start→All Programs→Windows Meeting Space.

The Meeting Space setup routine probably won't find any meetings to join.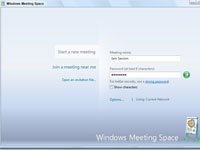 2

In the Windows Meeting Space main window, click the Start a New Meeting link.

Meeting Space asks you to give the meeting a name and password.
3

Type in a suitable meeting name and password.

Note that Meeting Space automatically looks for meeting participants over its current network. Since you want to set up an ad hoc network, you need to force Meeting Space to look at other wireless cards in the vicinity.
4

Click the Options link. Check the Create a Private Ad Hoc Wireless Network box; then click OK.

This forces Meeting Space to look for unattached wireless cards.
5

Go back to the new meeting dialog box and click the green right arrow to the right of the Password box.

Meeting Space opens a Meeting window.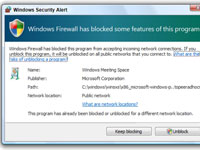 6

If Windows Firewall tells you that it is blocking Windows Meeting Space, click the Unblock button.

Click the Continue button through a User Account Control dialog box, and that returns you to the Meeting window.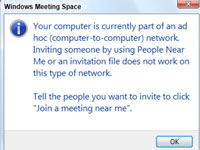 7

Back in the Meeting window, click the Invite People link.

Meeting Space informs you that you can't automatically invite people when you're using an ad hoc network. To invite people by choosing their names or sending them an invitation, you have to use a regular network.
8

Click the OK button.

You go back to the main Meeting window. Other computers, running Meeting Space that have working wireless cards, see a notification about a new meeting.
9

Tell all your friends to click the new meeting notification (in this case, for Jam Session), and give them the password.

They need the password to join your meeting.