How to Change the Date and Time in Windows Vista
How to Change the Date and Time in Windows Vista
Set the date and time so that Windows Vista accurately time stamps your e-mails and files, schedules tasks, and records events. You can change the date and time in Windows Vista by following these few simple steps.
1

Press the Windows key on your keyboard.

This will display the taskbar if it isn't visible.
2

Right-click the Date/Time display.

This is located on the far right of the taskbar.
3

Choose Adjust Date/Time.

You can find this option from the shortcut menu that appears.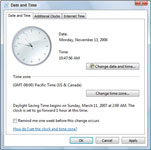 4

Click the Change Date and Time button.

In the Date and Time Settings dialog box, click another date on the calendar. Enter a new time in the Time box to change the time. Click OK.
5

Click the Change Time Zone button.

Find this button from the Date and Time Properties. To change the Time Zone, choose another time zone from the Time Zone list and click OK.
6

Click OK.

This will apply the new settings and close the dialog box.