How to Adjust Windows Vista's Display Options for Better Performance
How to Adjust Windows Vista's Display Options for Better Performance
If you aren't terribly concerned about Windows Vista's appearance, you can speed up the screen substantially, no matter what kind of video card you have. To maximize your display, you can turn off virtually all the cute visual effects that make Vista so suave.
If you want to make your interface mean and lean, follow these instructions carefully. Vista still has bugs in it, and the bugs tend to crop up whenever you try to gain control over the display. Because of these bugs, you should back up your current display settings:
1

Right-click an empty location on your desktop and choose Properties. Then click the Theme link.

Vista shows you the Theme Settings dialog box. The best way to ensure that you don't lose any of your settings is to save the current display settings as a theme.

You can save all your display settings by creating a restore point, if you like, but if you change something (such as installing a program) and then decide to go back to your original display settings, Vista can get mightily confused.
3

Type a name for your saved theme and click Save.

Use a descriptive name so the old theme is easy to find.
4

Close the Theme Settings dialog box and the Personalize Appearance and Sounds dialog box.

Now that your display settings are backed up, you're ready to get down to brass tacks.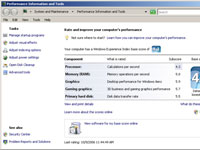 5

Click Start, right-click Computer, and choose Properties. Then click the link to the Windows Experience Index.

You see the Windows Experience Index.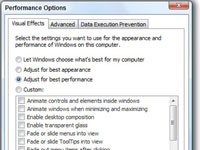 6

Under Tasks, click the link to Adjust Visual Effects.

After you continue through a User Account Control warning, Vista presents you with a laundry list of visual effects — performance-sapping features that make it easier to interact with Vista but take up a lot of cycles in the process.
7

Choose the Adjust for Best Performance option and then click OK.

Vista goes out to lunch for a second or two, and when it comes back, everything looks different. Play with Vista for a while and see if you can stand it. You'll notice immediately that Vista is much, much snappier. But it's also much more dour.