How to Add RSS Feeds to the Windows Vista Sidebar
How to Add RSS Feeds to the Windows Vista Sidebar
Adding RSS feeds to your Windows Vista Sidebar lets you access current information from the Web sites you check most often. By adding RSS feeds to your Sidebar, at a glance you can check out the latest posts from your favorite news sites, blogs, and so on. No more getting online and clicking to all of your favorite sites. Instead, they'll be streaming info right to your desktop.
1

Add the Feed Headlines gadget to the Sidebar.

Just click the Gadgets symbol (the plus sign) at the top of the Sidebar to open the Gadget Gallery. Then click and drag the RSS Feeds gadget to the Sidebar. Click View Headlines.
3

You can choose to do several things.

At the Web site that appears you can view blog entries, submit an entry, or subscribe to additional feeds.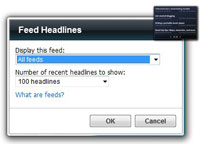 4

Click the Settings button.

In the Feed Viewer dialog box, select the default feed and the number of recent headlines to show.
5

Click OK.

Clicking OK closes the dialog box.