How to Add Contacts in Your Windows XP Address Book
How to Add Contacts in Your Windows XP Address Book
You can keep track of contacts by adding them to your Windows Address Book in Windows XP. You can enter whatever information you know about your contact, such as e-mail address, mailing address, phone number, and so on, so that you can readily access that info through Windows Address Book. To add contacts to your Windows Address Book in Windows XP, follow these easy steps.
1

Choose Start→All Programs→Accessories→Address Book.

You might get a dialog box asking whether you want to make this your default vCard viewer. Click Yes or No depending on your preference.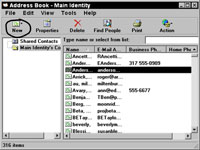 2

Click the New button, and select New Contact.

In the Address Book, select the option from the drop-down list that appears.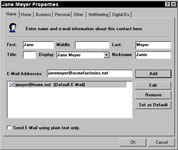 3

Enter detailed information.

In the Properties dialog box, enter your contact's information in various fields, clicking on other various tabs to add more details, and then click the Add button to add it to a list. Note that if the contact has more than one e-mail address, select the one you want to most often send e-mail to and click the Set as Default button. This is the address any e-mails will be addressed to.
4

Click OK.

Click OK when you finish entering information.