How to Add a Shortcut to the Send To Menu in Windows Vista
How to Add a Shortcut to the Send To Menu in Windows Vista
If you find yourself copying files into the same location over and over again, you can save time by adding a shortcut to the right-click Send To menu. By adding a shortcut to the SendTo folder, you can select any item, choose Send To, and your preferred destination will appear on the menu.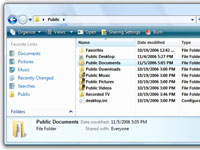 1

In Windows Explorer, locate the folder you use as a source location.

For example, to set the Public Documents folder as your location, click Start→Computer. Then, on the left, under Favorite Links, click the Public folder to display the Public Documents folder.
2

Right-click the folder and choose Copy.

If you've already opened the folder, you need to go back up one level and right-click its icon.
3

Right-click the Start button and choose Explore.

That puts you in the Windows Start Menu folder.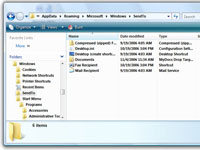 4

On the left, under Folders, click the SendTo folder.

It's located immediately above the Start Menu folder.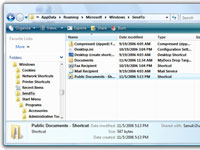 5

Right-click a blank spot in the SendTo folder and click Paste Shortcut.

That puts a shortcut to the Public Documents folder inside your SendTo folder.