Exploring Windows Vista's Help and Support Options
Exploring Windows Vista's Help and Support Options
Sometimes the easiest way to get the information you need is to do a quick search, but other times, the questions or search terms you need to use aren't readily apparent. In these situations, your best bet is to explore the Help Table of Contents for Windows Vista.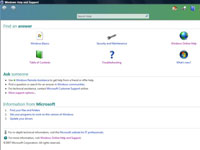 1

Choose Start→Help and Support to open Windows Help and Support.

If your copy of Windows came built into your computer, some computer manufacturers (such as Hewlett-Packard) customize this center to add information that's specific to your computer system.

To get the most up-to-date help information, it helps to be connected to the Internet. If you aren't connected, you can still browse the database of help information installed with Windows Vista, but you will see a message in the help window telling you that you are not connected.
2

Click the Table of Contents link to display a list of topics. Click any of the topics to see a list of subtopics.

Eventually, you get down to the deepest level of detailed subtopics that have question mark icons next to them.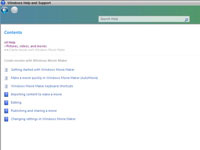 3

Click a subtopic to read its contents.

Some subtopics contain blue links that lead to related topics. Links with a green arrow next to them perform an action when clicked, such as opening a dialog box so you can complete a task.

You can click the Print icon in the set of tools at the top right of the Help and Support window to print any displayed topic. You can also click the Restore Down button in the title bar to minimize the window and keep it available while you work in your computer.
4

Click any words in green to view a definition of those terms. When you finish reading a help topic, click the Close button to close the Help and Support window.

The Help and Support Center is always there to help you when you have problems, and you can access it quickly by pressing F1 while you're at the Windows desktop.