E-Mail Your Photos
When you e-mail photos, you generally need to reduce them in size compared to the original photo. Vista allows you to resize your photos prior to e-mailing them.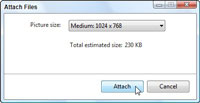 1

Right-click the desired photo or photos, choose Send To from the menu, and choose Mail Recipient.

Windows Vista opens a window, offering to shrink your e-mailed pictures. Take it up on its offer.

Or, if you're looking at the photo in a folder or from within Windows Photo Gallery, click the E-Mail button from the toolbar along the top.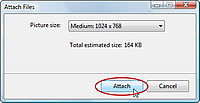 2

Click the Attach button.

Windows resizes the photos you're e-mailing, opens your default e-mail program (usually Windows Mail or Microsoft Outlook), and attaches them to a message.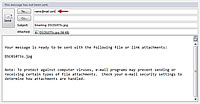 3

Fill in the recipient's e-mail address.

Or type in multiple addresses, if you want to send the photos to more than one person.