Copy Your Files from or to a CD or DVD
Copy Your Files from or to a CD or DVD
Copy files from or to a CD or DVD to save the files for backup or to share the files with friends. You use two types of software to copy files from or to a CD or DVD: To create a CD that plays music, you need to fire up Vista's Media Player program; or to create a DVD with movies or slide shows, you want Vista's new DVD Maker program.
Follow these steps to write files to a new, blank CD or DVD. (If you're writing files to a CD or DVD that you've written to before, jump ahead to Step 4.)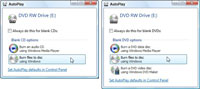 1

Insert the blank disc into your disc burner and choose Burn Files to Disc.

Vista reacts slightly differently depending on whether you've inserted a CD or DVD.

CD: Vista offers two options: Burn an Audio CD and Burn Files to Disc.

DVD: Vista offers three options: Burn a DVD Data Disc, Burn Files to a Disc, and Burn a DVD Video Disc.
2

Enter a name for the disc and click Next.
3

Tell Vista which files to write to disc.

Now that your disc is ready to accept the files, tell Vista what information to send its way. You have do this by right-clicking the item you want to copy, be it a single file, folder, or selected files and folders. When the pop-up menu appears, choose Send To and select your disc burner from the menu.

You can also drag and drop files and/or folders into the disc burner's open window, or on top of the burner's icon in Computer; or you can choose the Burn button from the toolbar of any folder in your Music, Picture, or Documents folder.

Finally, you can also tell your current program to save the information to the disc rather than your hard drive.
4

Close your disc-burning session by ejecting the disc.

Your CD or DVD is ready to use.