Back Up Your Computer
Face it: Hard drives eventually die. To make sure your files, photos, and other important documents are safe, you need to back up your computer to another source (DVDs, USB drives, or portable hard drives are all options). Use Windows Vista's Backup program to back up your computer.
1

Open Vista's Backup and Restore Center.

Click the Start button, choose Control Panel, select the System and Maintenance category, and click Backup and Restore Center.
2

Choose Backup Files.

If you're using Vista's Ultimate or Business version, the Backup and Restore Center offers two slightly different ways to back up your PC, but you want to click the Backup Files button.
3

Choose where to save your backup and click Next.

Vista lets you save your backup nearly anywhere: CDs, DVDs, USB drives, portable hard drives, or even a drive on a networked computer.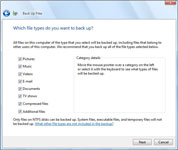 4

Choose the types of files you want to back up and click Next.

Although Windows asks what types of files you want to back up, it's already selected every type of file on the list. If you have a very good reason for not backing up some of them, remove the check marks next to those files.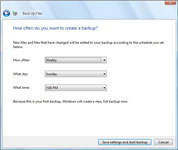 5

Choose how often to back up, and click the Save Settings and Start Backup button.

Choose between Daily, Weekly, or Monthly backups, and then choose the day and time for the Backup program to kick in. You can choose a time when you'll already be working on your PC, but the backup will slow down your PC.
6

Restore a few files to test your backup.

Now it's time to make sure that everything worked. Repeat the first step, but choose Restore Files. Follow Vista's menus until you can browse the list of backed-up files. Restore a test file to make sure that it's copied back to its original place.