Windows 8.1 Search Features
Windows 8.1 Search Features
Windows 8.1 has changed the way you search for things yet again. But this change isn't simply a matter of adding settings and files to the results: Now your search results also include results from the web.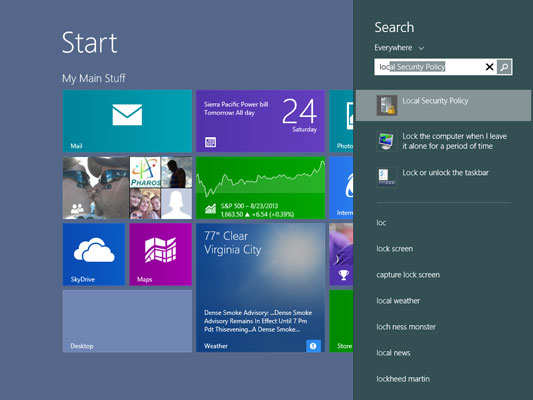 Before Windows 8 came along, you had to tell your computer if you wanted it to search for something. In Windows 8, that step of telling your computer that you wanted to begin a search was no longer necessary. Rather, your computer was always "listening." If you started typing something, your PC immediately started looking for things that matched whatever you were typing.
Unfortunately, Windows 8 always assumed that you were searching for one of your apps. If you were actually trying to locate one of the settings for your PC, or perhaps wanting to find one of your files,
Windows 8 required you to make an additional selection to indicate what kind of result you were looking for. This extra step was often confusing, especially for users who didn't realize that they were actually looking for a setting (or a file) rather than an app.
Watch the results as you type. Windows 8.1 begins providing matching items as soon as you begin typing. In most cases, the result you want will appear long before you type the entire search phrase, so you won't have to waste your time typing any further once your desired result is shown.
In most cases, the simple search results that Windows 8.1 quickly displays will probably include exactly what you need. At other times, you'll probably want to see even more results.
The figure shows the result of clicking (or tapping) the search icon (the magnifying glass) when the results shown previously are displayed. Notice that the results now include 1 app, 39 settings, and 10 documents, as well as many results from the Internet that you can see by scrolling to the right.

If you're working at the Windows desktop, you can't begin a search simply by typing the way you can at the Start screen. You can, however, move your mouse from one of the right-side corners (or swipe in from the right side of the screen) and choose the Search option.