Where Can You Find Windows 8.1 Metro Skype?
Where Can You Find Windows 8.1 Metro Skype?
Chances are pretty good that the Metro Skype tile didn't get put on your Windows 8.1 Metro Start screen. If you've looked and can't find it there, it's because Microsoft hid it on the All Apps screen. Here's how to get it back and get started:
1

Go to the Metro Start screen and type skype.

The Metro Skype app should appear as the first choice: The icon looks like a Superman cape (more like a Superman disposable diaper?).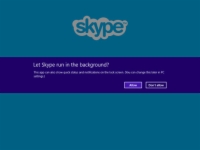 2

Click or tap the Metro Skype icon.

Skype appears, and it already has a question.

If you're using a local account to sign in to Windows — as opposed to a Microsoft account — and you crank up Metro Skype, Skype prompts you immediately to switch to a Microsoft account. If you want to use Metro Skype, you must have a Microsoft account.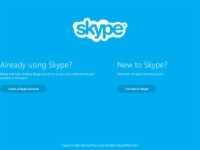 3

Most people like Skype to ring — or toss off some other notification — if there's an inbound Skype call. If you're one of those people, tap or click Allow.

Realizing that many people using the Metro Skype app already have Skype accounts, Metro Skype asks if you want to use an existing Skype account, or if you want to create a new, ahem, Microsoft account.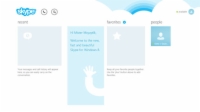 4

If you already have a Skype Name and you want to tie it in to your Windows account, click or tap I Have a Skype Account, on the left.

If you really don't want Microsoft to associate your existing Skype Name with your Windows account, click or tap I'm New to Skype, on the right. And, of course, if you don't yet have a Skype name, click the latter.

If you click on the left, Skype asks for your existing Skype Name and password, then bundles that with your Microsoft account. If you click on the right, you have a chance to sign up for more spam (oh boy!), and you're set up with your Microsoft account as your Skype Name.

When Metro Skype is ready to roll, you see a screen like the one shown.
5

Start by running an Echo/Sound Check. Click or tap the tile on the right that says Echo/Soun . . .

Metro Skype brings up a Sound Check dialog box, where you can check your microphone and speakers.
6

Follow the instructions to test that your mike and speakers are working — and your camera, too, if it's connected.

The test is quite simple and only takes 30 seconds.