View Your Facebook Photos in the Windows 8 Photos App
View Your Facebook Photos in the Windows 8 Photos App
If you are running Windows 8 with a Microsoft account and you have connected that account to your Facebook profile, you can use the Photos app to view your Facebook photos. After you open a Facebook photo album, you can swipe through the images in it. Alternatively, you could open just an individual image for viewing. You can then navigate through the other images in the same album.
Follow these steps to connect Windows 8 to Facebook and to view your Facebook photos.
1

On the Start screen, tap People.

The People app loads.
4

Tap Connect.

Facebook prompts you to log in to your account. Type your Facebook e-mail address and your Facebook password, just as if you were logging onto the Facebook site from your browser. Be sure to select the Keep me logged in check box.
5

Tap Log In.

Windows 8 connects your Facebook account to your Microsoft account. Tap Done, and you've successfully connected Windows 8 with Facebook.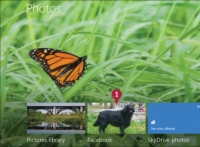 6

To view your Facebook Photos, in the Photos app, tap Facebook, as shown in 1.

Your Facebook photo albums appear.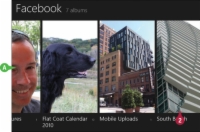 7

Tap the album that contains the images you want to view, as shown in 2.

The Photos app displays the images in the album (A).
8

Swipe left and right to scroll through the album.

To view a specific image, tap it. The image is displayed. Swipe left to see the next image. You can return to the previous image by swiping right.