The SkyDrive Fetch Feature
The SkyDrive Fetch Feature
The Windows 8.1 SkyDrive app's Fetch feature lets you go into any computer that's logged on with your Microsoft account and retrieve files on the computer.
Say you're going on a business trip. Before you leave, you log on to your Windows 8.1 computer using a Microsoft account. While you're driving through a corn field in Kansas, you suddenly realize that you left your favorite picture of a scarecrow back on the computer at home.
You whip out your iPad, use its 3G connection to go to SkyDrive, log on with the same Microsoft account, and with a few clicks, you can reach into your home computer and retrieve the picture. In fact, you can fetch any file you want.
For security verification, you need to be able to access a secondary verification channel; for example, if you have a phone registered with your Microsoft account, you may get an SMS with a code that lets you get into the computer.
To pull out a file with Fetch:
1

Make sure the computer that contains your desired file meets the necessary criteria.

The computer needs to be turned on. Fetch will usually "wake up" a sleeping Windows 8 or Windows 8.1 computer, but if the computer's turned off, there's nothing you can do about it from a cornfield in Kansas.

You must be logged on to that computer — the computer you're going to probe — with a Microsoft account.

You also need to know the probed computer's name, which is assigned when you set up Windows.

That's all you need to do before you set out on that road trip.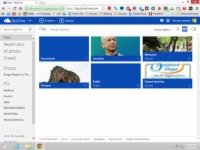 2

When you want to fetch a file from the waiting computer, fire up a browser — any browser — and go to SkyDrive. Log in with your Microsoft account.

The SkyDrive main page appears. Under the PCs heading on the left, note the names of other computers that are connected with the same Microsoft account.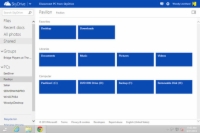 3

In the lower-left corner, tap or click the name of the computer that you want to connect to.

You may need to retrieve a security code via e-mail or SMS. Enter it, and SkyDrive comes back with a representation of all the folders and libraries on your computer.
5

Tap and hold or right-click the picture and choose Upload to SkyDrive.

Fetch asks where you want to put the file on SkyDrive.
6

Choose an appropriate folder on SkyDrive or create a new folder (click or tap the New Folder button); then tap or click Upload.

Fetch dutifully copies the file from the computer you're connected to into your SkyDrive folder.

From that point, you can copy the file anywhere you like.

The computer you're fetching from must have the SkyDrive program installed.

If the secondary validation you have on file with Microsoft is to send a message via SMS, you better have the phone (or something like it) handy.

Mac users (indeed any computer with a browser) can fetch files from PCs that have the SkyDrive program installed. But you can't use Fetch to retrieve files from a Mac. You can only use Fetch to retrieve files from a Windows PC.

SkyDrive only retrieves files. It doesn't let you control the other computer, as you can with Remote Desktop Services or (my favorite) LogMeIn. If you're after a forgotten file, Fetch is great. If you're trying to troubleshoot a cantankerous computer, you're out of luck.