Ten (or So) Essential Windows 8 Tablet Accessories
Ten (or So) Essential Windows 8 Tablet Accessories
This list covers the most important accessories to add to your Windows 8 tablet. Your needs may differ, of course, so they're listed in general order of importance and portability.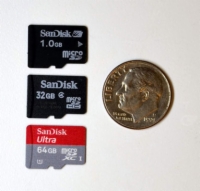 1

A memory card for tablets

Nearly every Windows 8 tablet includes a microSDXC (Secure Digital Extended Capacity) memory card slot for sliding in a memory card. These tiny cards are smaller than a dime.

A microSDXC slot accepts three types of cards: microSDXC, microSDHC, and microSD. It won't accept the larger Secure Digital cards found in many digital cameras.

Buy the largest capacity card you can afford and slide it into your tablet's memory card slot to expand your tablet's storage for adding extra music or movies.

Or, use a memory card as your tablet's File History storage space. That ensures your tablet stays backed up, wherever you take it.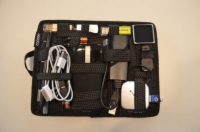 2

A padded case for your tablet

Few tablets include a case, but without one, you'll have second thoughts when tossing your tablet into a suitcase or standard laptop bag. That exposed glass may be tough, but it still looks fragile.

Cases designed for iPads usually won't work with Windows 8 tablets; iPads are shaped slightly differently. Instead, look for a case designed specifically for a Windows 8 tablet. Or, check out cases designed for ultrathin laptops, as you might have more luck.

Also, a Cocoon gadget holder, like the one shown, lets you pack flash drives, cables, adapters, USB hubs, and other doodads in a flat package.
3

An AC adapter for your tablet

Your tablet's AC adapter always belongs in your bag, unfortunately. Under heavy use, your tablet's batteries might not last all day. The best adapters include prongs that fold inward when not in use, keeping them from scratching your tablet's screen.
4

A soft cleaning cloth

Spread this across your tablet's glass front before placing it in the case; it offers a little protection from scratches.

A cloth also lets you wipe your fingerprints off the glass. You can't see the fingerprints much when the tablet's turned on. But when it's turned off, the glass will look full of smudges.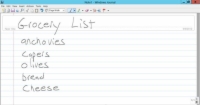 5

A digital pen or stylus

Some tablets include a digital pen or stylus for note-taking. But even if you never plan to write on your tablet, a stylus works quite well as a mouse substitute when working on the desktop.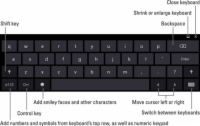 6

A keyboard for your tablet

Many people learn to type quite speedily on their tablet's glass keyboard. But no matter how comfortably you can type, the tablet's glass keyboard consumes half of your screen, making it difficult to see your work.

If you type a lot of information into your tablet, pick up a portable Bluetooth or USB keyboard.
7

A mouse for your tablet

Essential for the desktop, a mouse and keyboard turn your tablet into a makeshift laptop. You'll find many portable mice for sale on Amazon and at other stores. Because most tablets only include one USB port, you need either a wireless mouse or a wireless keyboard.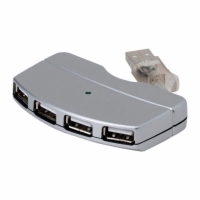 8

A USB hub for Windows 8 tablets

This gadget expands your tablet's lone USB port into two or more, hopefully enough to accommodate all of your gadgets. Buy one with at least three USB ports, letting you plug in a keyboard and mouse, but still leaving another port open for a flash drive or other gadget.
9

A USB flash drive for tablets

These tiny little drives cost very little. Yet they not only expand your tablet's storage, but they provide a quick way to transfer files to and from your tablet.

A 32GB flash drive costs very little and provides enough storage space for thousands of songs, photos, or a handful of movies.
10

A video cable for your tablet

Although many retailers charge extravagant fees for these, don't fall for the scam. You can buy them online for less than ten dollars. Be sure to buy one with a standard HDMI port on one end, and a micro-HDMI or MiniDisplay port on the other end. (Choose the type that matches the video port on your tablet.)

Plug the cable's small end into your tablet; the larger end plugs into the HDTV or monitor. It's a handy thing to have when you want more real estate for your desktop than your tablet's screen can offer.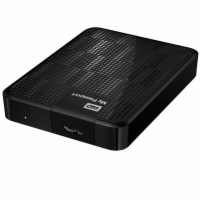 11

A portable hard drive for your tablet

Most people won't need this, because they can find enough storage from their tablet, its memory card, flash drives, and SkyDrive. But if you need to carry around a lot of files, pick up a portable hard drive.
12

A microphone/speaker for your tablet

Your tablet's built-in microphone and speakers meet most sound needs. But if you want to move a step up, perhaps for conference calls, or when recording your local ukulele group, pick up a portable microphone and speaker.